Are you hitting the road with your dog and need a way to secure and organize your pet supplies? Discover top recommended dog travel organizer bags for the car.
Whether you are out for a day of errands or you are taking a road trip with your dog, you probably will need to pack some basic supplies such as first aid, dog food, water, treats, toys, and so forth. But how do you keep these supplies organized and secure on the road?
In this guide, I will introduce you to some of the top dog travel bags to consider. But first, let's go over the basics.
What is a Dog Travel Bag & Why Do You Need One?
A dog travel bag is also called a pet travel organizer bag. It is simply a large bag which contains a number of compartments for your dog supplies.
Traveling with pets can be a lot of fun, but it can also be a challenge if you aren't prepared! Keeping all of your dog's supplies in one central location makes it easy for you to respond quickly when your dog needs something, whether it's a snack or a quick walk to take care of business!
What separates a dog travel bag from other types of travel organizers are usually some special features. For example, the organizer might include a dispenser for waste bags. It might also be made out of extra-durable fabric so that your pet is less likely to damage it trying to grab its contents.
The Best Dog Travel Bags
Disclosure: Links to the products in this article are included where you can learn more about or buy each product. If you buy an item via the links on this page, we may earn a commission.
First, we'll start with a quick comparison table so you can see our favorite pet organizer bags for the car. Click the links below to jump to our product review of each organizer.
Our Reviews & Recommendations
Dogs need their luggage just like people do to enjoy a road trip. Below are our product overviews for some of the top dog travel bags that will keep you and your pup safe & happy while traveling in the car.
1. High Road Dog Travel Bag with Waste Bag Dispenser
Top Features
5 compartments
Built-in water bottle holder
Built-in dog bag dispenser
Spring closure
24-cup dry food capacity
2 fabric pockets
5000D polyester
Best for day trips & cleaning up after your dog on the go.
The High Road Dog Travel Bag offers you five compartments including two fabric storage pockets for dog food, baggies, and more. Made out of 5000D polyester, it features a spring closure. These features add to its durability and prevent your dog from poking around inside the bag.
This dog travel bag has some cool extra features to make it quick and easy to grab what you need. The mesh side pockets can accommodate 3" wide bottles. If you need to grab a plastic waste bag, the built-in dispenser makes it fast and easy.
Another nice feature is the adjustable strap, which can fit over the headrest of your car seat while you are driving. It also can function as a carrying handle. With all these great features, this bag is ideal for outings to the park, road trips and more.
2. Ruffwear Haul Bag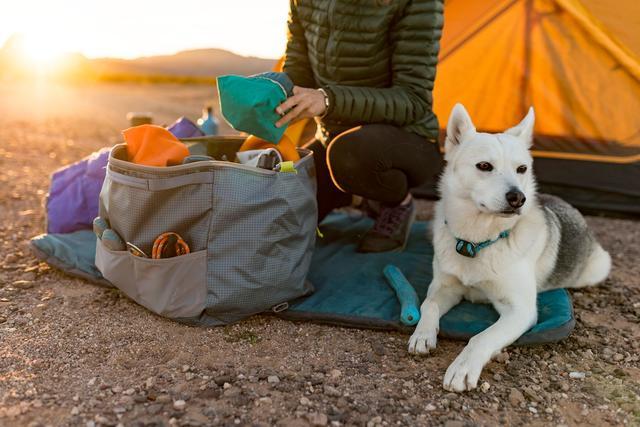 Top Features
37-liter capacity
Strap adjustable up to 90 cm
Wide opening
Interior and exterior pockets
Waterproof
Webbing handles
Daisy chain
210 denier nylon taffeta with waterproof finish rated at 4,000 mm
Best for outdoor adventures and activities
Those who have extra-large items to stow in a dog travel bag (such as a food bowl) will find that the Ruffwear Haul Bag™ fits the bill with its extra-wide opening. Featuring a 37-liter capacity and a combination of external and internal pockets, it makes it easy to organize all your supplies.
A couple of features make this bag ideal for hiking, trips to the park, and other outdoor activities. First of all, the 210 denier nylon taffeta includes a waterproof finish. So if the bag gets wet, your items will stay dry. Secondly, the adjustable strap fits across your body or over your shoulder while webbing handles offer you additional carrying convenience.
3. Top Dog Travel Bag – Airline Approved Travel Set for Dogs
Top Features
26-cup capacity
Magnetic sleeve pocket
Water bottle holder
Internal zippered mesh pocket
Zippered side pocket
Internal divider (removable)
2 silicone dog bowls included
2 lined food containers included
Best all-in-one bag with accessories.
With its 26-cup capacity, you can store as much as a week's worth of dog food in this bag, making it a good choice for trips. The internal divider can be added or removed based on your needs, and there are several pockets to help you keep your supplies in order.
Another exciting feature of this product is that your purchase comes with a set of 2 silicone dog bowls and 2 lined food containers. This saves you the trouble of purchasing containers separately that will fit inside the pet travel organizer bag. This is why it is my favorite all-in-one option for storing, organizing and feeding.
4. Orvis Dog Weekender Travel Kit
Top Features
Nylon canvas
Store 4-5 pounds of dry food
Includes two collapsible travel bowls
Removable divider
Zip pocket on lid
2 mesh side pockets
Padded strap
Liners are BPA-free
Best dog travel bag to personalize – makes a great gift!
If you are looking for a customizable dog travel bag, consider the Orvis Dog Weekender Travel Kit. If you purchase the large version of this bag, you are allowed to embroider up to 12 characters on it. This might make it especially suitable for a gift for a fellow dog owner.
The nylon bag is lightweight and includes three storage compartments and a removable center divider. With different closures for the mesh side pockets (an elastic top for one, an adjustable drawstring for the other), you have flexible storage options.
You can find the Dog Weekender Travel Kit on Orvis.com.
5. Mobile Dog Gear Week Away Tote Pet Travel Bag
Features
2 lined food carriers
2 silicone bowls
Placemat
Zippered pockets
Back pocket
Interior divider
Removable shoulder strap
Luggage sleeve
Luggage ID tag
Best airline carry-on dog travel bag.
While multiple bags in this list are suitable for air travel, it is hard to beat the carry-on friendly Mobile Dog Gear Week Away Tote Pet Travel Bag. Along with meeting carry-on requirements, this bag includes a convenient luggage sleeve as well as a luggage ID Tag.
Other great features include the silicone bowls and food carriers that come with the travel bag and the placemat which offers spill protection.
Frequently Asked Questions When Traveling With Your Dog
Q: What should you bring in the car for your dog?
A: If you are traveling in the car with your dog, some basic supplies you should consider bringing include food and water, treats, bags for cleaning up after your pet, a first aid kit, vaccination records, medications and supplements, and toys. You might also want to pack a spare leash and collar with an extra tag.
Q: How do you carry dog travel supplies in the car?
A: The easiest way to secure and organize dog travel supplies in your vehicle is by using a dog travel bag, also known as a pet travel organizer bag.
Summary
Now you are familiar with some of the best dog travel bags which are on the market today. Whether you want a bag for road trips, outings at the park, errand days or airline flights, these pet organizers can help you travel comfortably and conveniently with your dog.
And if you need more storage for your own travel items in the car, check out our favorite car organizers for people too!